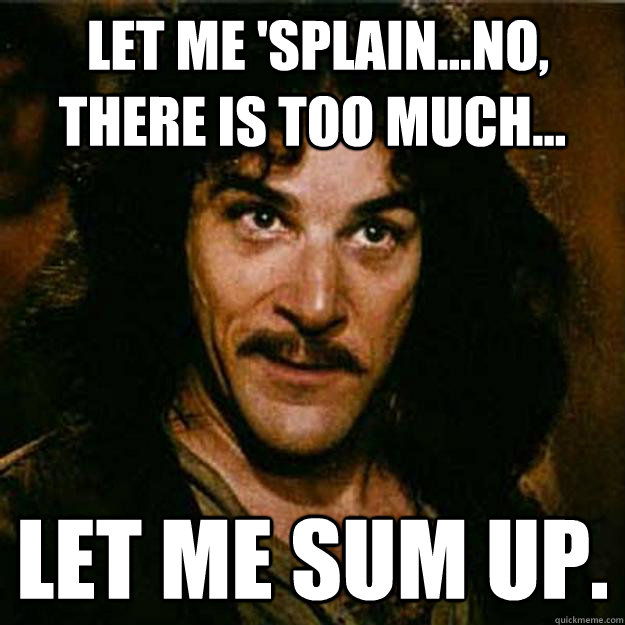 This is probably one of the most oft-used quotes around our house. Right along with, "you keep using that word. I do not think that word means what you think it means." ...Just thought I'd share that with you. It's always a good idea to know where someone stands... especially as far as princess bride goes.
So now you know.
I hope your life is richer for it.
But today, I wanted to tell you a little story. My story. Well, the story of my many cameras. I've had three. Two point-and-shoots and one DSLR (so far.)
I've always been pretty interested in cameras, but from a distance. My oldest sister had a snazzy camera (
I
thought. I had a long way to go.), and my dad had a nice black one that I thought was fabulous, and we had a video camera (which I loved and still do), and after a few years my younger sister got one of those kid cameras. Now, this will sound silly, but I was rather jealous of her camera. The pictures were (still are) horrible. I mean, photoshop was useless with these, but I was slightly annoyed that she got a camera when I had wanted one for years. But the wait was worth it. It really was.
So, Christmas time rolled around (2010) and three days before christmas (also, my birthday,) behold! A pink point-and-shoot. I was thrilled.
(Also, my photos at this point were very horrible. I won't go into details on that.
Just trust me.
)
So basically I carried it around with me everywhere I went and I pained a lot of people, I'm sure. With my weirdly distorted photos, crazy red-eye and everything in between, it was not cool. But for some reason my parents thought there was something promising in me.
So,
when I broke that camera (about a year or so later), they bought me another one. Also pink. Also Point-and-shoot. Also Sony.
...and I liked that one, too. And slowly but surely I learned little bits about photography. Not so much about aperture and shutter speed, but more the artistic level of photography. What I learned was to use what I had & to make the best of it. Little did I know that I even
wanted
a better camera. In my mind, I remember feeling like the only thing I really needed was a smaller depth of field (in so many words. At the time, I didn't know what depth of field was.), but that everything else was pretty doable with my point-and-shoot (that thought came from ignorance. bliss, right?)
So then, in May of 2013, my dad got me my first DSLR - Nikon d3100. Came with two kit lenses - Nikor 18-55 mm f/3.5 & Nikor 55-200 mm f/3.5 (which I really liked!).
and with it, for obvious reasons, came better photos. I still was at a pretty low level of talent, but I had the want and the skill would follow.
So after toying with the idea of doing project 365 (
Thanks, Courtney!
) and receiving a kit lens (the nikor 50 mm f/1.8,) I decided now was better than never and I took off full speed ahead in November of 2013.
I'd attempted project 365 a number of times before, always falling short by the end of the month, but this time I was determined. and I did it. minus three days, I did it!
My advice is this: GET A SUPPORT GROUP!! That person can be a parent, or just a friend who will check up on you every now and then to ask how your doing, or even (this is where I come in!)
a blog
! ANYTHING that will keep you clicking. But do it.
So, from November 2013 - November 2014... I clicked away to the next step of photography.
and in a way, that's where it leaves me. Except for this blog. How did it start?
Well, that's another story,
but long story short: When I decided to try project 52, I wanted to stay on top of editing so I took a crazy leap and started a (I've lost count... ?) fifth blog and it's blossomed from there. and now I'm on my second year of blogging and my second round of project 365 (I give myself slack on the weekends, though.)
and now you know everything there is to know. Leave me your story to read in the comments - or, even better, direct me to
your
blog where I can read your story!